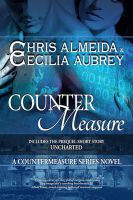 Countermeasure is The TBR Pile's 2012 Book of the Year.

COUNTERMEASURE is a recipient of the indiePENdents's Seal of Good Writing.

WARNING: Contains scenes of mature subject matter, graphic situations and language. Reader discretion is advised.

The suspense driven COUNTERMEASURE SERIES combines full-length novels and Bytes of Life short stories about sexy, technologically inclined men and women. The series is filled with heart-stopping danger and enough twists and turns to make a hair-raising rollercoaster seem tame. In the series, Trevor Bauer, a tough as nails NSA geek, and his even more tenacious love interest, Cassandra James, are on a quest for clues in the mysterious disappearance of Trevor's parents. Joined by fate, their search drops them into the mysterious and violent world of data espionage, one that tests their love as they sweep the world with romance, sex, and ingenuity to find answers that will have the power to change their lives forever.

In the first novel of the COUNTERMEASURE SERIES, Trevor Bauer, an NSA analyst, is searching for answers to the mystery surrounding his parents' disappearance when he crosses paths with Cassandra James, an ex-CIA operative with a big chip on her shoulder. By a stroke of luck, he becomes the key to her own mission while she becomes the center of his attention.

Fighting an attraction as intense as their overwhelming instinct to keep each other at bay, together, they embark on a harrowing adventure that leads them across the ocean and into a world of intrigue and danger they had never foreseen. When faced with death defying choices, will they learn to trust their own instincts and each other to survive?