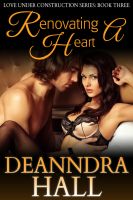 Steve McCoy has powered through a horrible history to become a successful attorney and businessman. He's got it all - nice house, nice apartment in the city, luxury car, all the cash anyone could want, and access to all the subs a Dom could possibly need through Eden's Gate, the BDSM club that he owns.

Kelly Markham has had her share of heartache too, from a hideous childhood to being left behind when her late Dom passed away. In need of legal attention, her friend, Nikki, sends her to see the blond Viking of an attorney, and Steve is captivated by Kelly's . . . attributes. She's looking to reenter the lifestyle and can't wait to visit Steve's club once she learns of it.

Once there, she quickly becomes a favored sub, but Kelly enjoys a concentrated D/s relationship, and Steve offers to give it to her under one condition: It's just for one month. Contract signed, Kelly enters into the relationship with the blue-eyed hunk.

When things go awry right off the bat, there's doubt that the contract can be honored. But as time passes and the relationship improves, Steve and Kelly both harbor the secret desire to continue their arrangement past the one-month mark, even though neither will risk the fear of rejection or heartbreak if they admitted it.

As things progress, Kelly makes a discovery that she's sure can help put Steve's demons from the past to rest once and for all. Problem is, in trying to help him, she awakes a demon that even hell couldn't contain. And when Steve considers all of her attempts to help him heal as the ultimate betrayal, it looks like the relationship will be over before it can even begin. And when the now-awakened threat decides to exact his revenge on Kelly, can Steve forgive her in time to save her life?

Renovating a Heart is a sexy, violent, suspenseful trip back into the world of the Walters clan of Louisville, Kentucky. To really understand the characters, be sure to read The Groundbreaking (prequel), Laying a Foundation (Book 2), and Tearing Down Walls (Book 3) before embarking on this story. And don't forget the tissues. You'll need them.

WARNING: This book contains graphic violence, explicit sexual situations, BDSM themes, and scenes that border on non-consensual. As such, it is only intended for mature audiences, and not for those under 18 years of age.