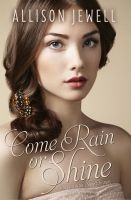 The Shine On Series:
Shine On
Rise & Shine
Come Rain or Shine

Emmie Talbot is mostly a quintessential good girl.
Brave, Southern, and Kind.
An ex-moonshiner (really, this time).
And in love with Silas McDowell.

In the third book of the Shine On Series, Come Rain or Shine, Emmie Talbot and Silas McDowell head north in an attempt to escape the shadows left behind in Kentucky. A brush with death involving an iron skillet and a man from Emmie's past, leaves them hurt and unsure of their next step. Seeking refuge in Chicago with friends and family sounded like a great idea. Ava is there, along with the secret she's been harboring, and so are the father and brother Emmie never knew she had. What is supposed to be a peaceful trip to the big city turns out being anything but.

While they are away, Bowling Green is burning, literally. When Emmie learns what is happening back home, she is forced to face the dangerous consequences that remain from her past attempts at moonshining.

Silas longs to make her life perfect: buying her new clothes, making her promises, and hiding ugly truths. But Emmie doesn't want a perfect life. She just wants someone to stand beside her, Come Rain or Shine.