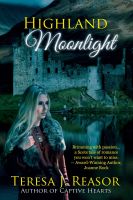 Seduced and shamed by Alexander Campbell, the warrior to whom she is betrothed, Lady Mary Mac Lachlan flees to the Campbell stronghold of Castle Lorne and demands sanctuary from Alexander's father.

Though Alexander seduced Mary for her own protection and his men's, his actions have greater repercussions than expected. His betrayal destroys Mary's trust and his belief in himself as a man of honor. Determined to heal the breach, and claim Mary—who now carries his heir—as his wife, he follows her to Lorne and finds himself brought before a council of arbitration on charges of rape.

When Collin Mac Lachlan, Mary's father tries to coerce her into testifying against Alexander, Mary refuses. But when violence threatens to break out between their clans, Mary is forced to wed him to fulfill their betrothal agreement and save him from the executioner.

Amid the hostilities between their clans and the wounds inflicted on her heart, can Mary find the love and happiness she's always craved or will she discover she's been chasing a dream as illusive as Highland Moonlight?