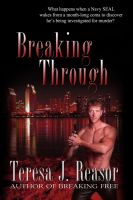 What happens when a Navy SEAL wakes from a month-long coma to discover he's being investigated for murder?

When Ensign Brett Weaver is accused of murder, he knows he's innocent, but how can he prove it with Naval Investigators breathing down his neck? A chance meeting with reporter Tess Kelly offers him an opportunity to get the press on his side. But can he trust her to keep his other secrets off the record?

Tess works hard to live up to her father's expectations. When Brett offers her information about SEAL training in exchange for an introduction to her award-winning journalist father, she jumps at the chance. The situation Brett lobs into her father's lap is a major scoop. But the secret she discovers about Brett is just as newsworthy. Will her feelings for this wounded warrior win out, or will she release a story guaranteed to destroy Brett's SEAL career?

When Tess's father is kidnapped, Brett's team is deployed to find him. At the same time, a leak in the investigation puts Tess and Brett's lives in danger. Will Brett be able to break through the lasting effects of his injuries and prove he's once again a battle-ready SEAL? Or will he and Tess lose everything at the whim of a vengeful killer?