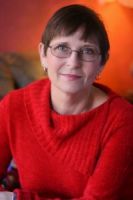 I was born in Southeastern Kentucky, but grew up a Marine Corps brat. The love of reading was instilled in me when I first learned to read in Kindergarten at Paris Island, South Carolina. Books were the friends who traveled with me during the many transfers my father's military career entailed.

When I grew older, it was a natural transition for the love of reading to become a love for writing. Though I've been an art teacher and an artist for over twenty years, writing has always been my first love and my passion. And I know that will be true for the rest of my life.

Teresa Reasor is the author of Highland Moonlight, Captive Hearts, Timeless, Breaking Free (Book 1 of the SEAL TEAM Heartbreakers), and Breaking Through (Book 2 of the SEAL TEAM Heartbreakers).

She has just released two short stories. An Automated Death (A Steampunk Short Story) and To Capture A Highlander's Heart (A Highland Moonlight Spinoff).
Location: Kentucky, USA