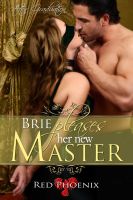 Find out what happens after the elevator doors close… Brie and her new Master are now free to explore life as a D/s couple. Although Brie graduated from the Submissive Training Center top of her class, she soon finds she still has a lot to learn. A rival Dom cannot accept her choice of Master and will not let her go without a fight. Brie's generous heart steers her in the wrong direction when the Wolf comes to call.

This first novelette of Brie's 'After Graduation' series explores the lessons, love, and lust unleashed upon the newly collared sub.

Brie is euphoric after choosing her Master. Now the two can freely explore their love for one another outside the walls of the Center. Master teaches her the meaning of true possession. He also opens up to Brie, sharing a painful aspect of his past. She is shocked to learn his secret, but is determined to love him through it. Unfortunately for Brie, things start to get complicated when Faelan reenters the picture.

* Future installments of the Brie 'After Graduation' series will answer questions about the characters you have grown to love in Brie Learns the Art of Submission. Find out what's been happening with the other Doms at the Training Center, learn about Lea's experience working there, and how Blonde Nemesis is faring after her betrayal. There is even a visit to Russia on the horizon…

Adult Material (18+)

Warning: This book contains sexually explicit content and scenes that some readers may find objectionable.