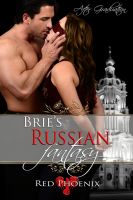 Russian intrigue, startling revelations, and submissive enlightenment… Brie's trip to Russia exceeds her wildest dreams. The bond between Master and Brie grows deeper as he opens up about his mysterious past. While the Russian Dom, Rytsar Donkova, reveals his true nature, introducing the young submissive to a different side of BDSM.

The third novelette of the 'After Graduation' series takes Brie on a journey overseas where unspoken desires, exploration and love know no bounds.

Extended Description:

Brie is thrilled to join Master on a trip across the ocean. Before she leaves, Brie is given insider information about Ms. Clark, tries to impress Marquis Gray, and takes her Master to meet the parents. The excitement doesn't stop there as Master reveals more of his painful history and Rytsar challenges her darker desires. The trip to Russia would not be complete without her ultimate fantasy coming true…

Adult Reading Material (18+) This book is for mature audiences only and contains sexually explicit content.