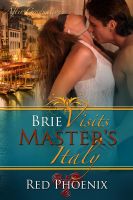 Brie has many exciting lessons yet to learn. There's a session on belts, an introduction to Master's new skill and the unwelcomed challenge of jealousy. Master shares his father's Italian hometown with his little sub. While exploring the island they discover something that has remained hidden for years, waiting for Master's return. This is a beautiful journey of passion, healing and sacrifice.

This seventh novella in the After Graduation series is a tantalizing ride as Brie experiences arousing Domination, hurtful rejection, and the strength of 'condor love'.

Extended Description:

Brie must face her parents, among other things, before traveling to Italy with her Master. There Master introduces her to his father's charming hometown and large Italian family. All seems well until an old lover enters the picture. It becomes a struggle for Brie as she attempts to balance her natural jealousy with the deep love she has for her Master. Even more surprises are in store for her, including a birthday party that is uniquely Brie-licious.

Adult Material (18+)

Warning: This book contains sexually explicit content and scenes that some readers may find objectionable.