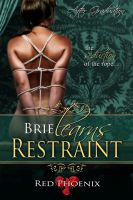 Brie Learns Restraint, #5 in the AG series:

Brie is given the opportunity to work under the mastery of another Dom – an expert in bondage. During the unique arrangement she discovers truths about herself and several of her past trainers. A new passion is ignited when she participates in an erotic class of Kinbaku. Loyalties are challenged, but a clear winner emerges. Can Brie resist the seductive call of the rope?

This fifth novella in the AG series explores the sensuous allure of bondage and the power of love that binds.

Extended Description:

Brie's Master leaves her under the care of a trusted Dom, but serving another is not easy for the young submissive. The new arrangement challenges the developing relationship between Brie and her Master. Emotional ties, as well as old desires, are tested. Brie gains clarity from the experience, but faces an unforeseen complication neither anticipated.

Adult Material (18+)

Warning: This book contains sexually explicit content and scenes that some readers may find objectionable.