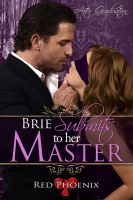 Brie's Master has special plans for his submissive at the Training Center, giving her the chance to see her former trainers and visit with her best friend, Lea. Brie's education continues when she scenes with her new Master at The Haven, but the Wolf has returned and will not be deterred. His deception threatens to tear away everything Brie holds dear, but Master is not a man to be trifled with.

This second novelette in the 'After Graduation' series introduces Brie to several new BDSM experiences, highlighting why Master is worthy of total devotion.

Extended Description:

Brie is introduced to challenging experiences under the guidance of her Master. She is thrilled when he takes her to the Training Center where she is subjected to Lea's bad jokes, Boa's large dilemma and Master's electrifying touch. Things ramp up to fiery levels when she visits The Haven. Brie is surprised by a display of Kinbaku, but nothing compares to the scene the Wolf creates. Desperate times call for desperate measures.

Adult Material (18+)

Warning: This book contains sexually explicit content and scenes that some readers may find objectionable.