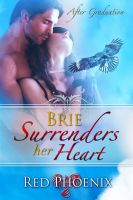 Brie's submissive journey has been marked with self-discovery, humor, and sexual exploration. To her delight, Brie is about to enjoy the best scene ever with Master, carrying her to heights never imagined. Friendships deepen, a challenge is accepted, and her film career is launched. But life is a balance… judgment and vengeance are waiting in the wings to steal the one thing she desires above all.

This last of Brie's After Graduation series sports the hottest sex and the deepest depths. There is no middle ground for Brie now.

Brie's final installment comes to an epic close, enchanting all the senses. From birthday presents to mind-blowing sex, untold fun awaits our little submissive. Equally potent are the challenges Brie must face. Nothing of great worth comes without sacrifice. Join Brie in this spine-tingling conclusion to the After Graduation series.

Adult Material (18+)

Warning: This book contains sexually explicit content and scenes that some readers may find objectionable.