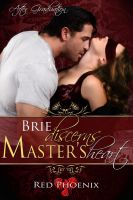 Brie's AG series #6

Master has revealed himself in small doses, only hinting about the tragedy in his past. Things are about to shift as Brie comes face to face with Master's greatest adversary. Huge changes are rushing towards our young submissive. The wolf must be confronted, her documentary is about to discover its fate and Master will bare a part of himself kept hidden until now.

This sixth novella in the AG series is a sexual adventure as Brie is reunited with Master and discovers the healing power of love.

Extended Description:

Brie has unknowingly befriended an enemy of her Master's and it is about to complicate both of their lives. Crunch time has come for the documentary as Brie finishes with a revealing chat between Lea and Mary. A visit with Master Anderson leads to the long-anticipated reunion with a passionate Dom. Nothing is easy where Brie is concerned and yet… she has never known such joy.

Adult Material (18+)

Warning: This book contains sexually explicit content and scenes that some readers may find objectionable.